I.S.O 9001:20018, UIG-1027-EK-136 registration number and I.S.O 9001:2015 UIG-1027-EK-136 registration number, certifications – Quality Management Systems. Requirements.
Quality is, no doubt, a fundamental element in the light of globalization and international competition. I.S.O 9001 certification specifies the general tasks for developing, implementing and meliorating the quality management systems in order to  satisfy  the needs of the client. It takes account of an approach based on the organization's management process and thus, provides the top management a constant improvement and gives a more logical structure, a customer orientation and an evaluation of the client's satisfaction.
Applying the new I.S.O 9001:2015 standard, the quality grows because the quality management can be integrated and aligned with the organization's strategy.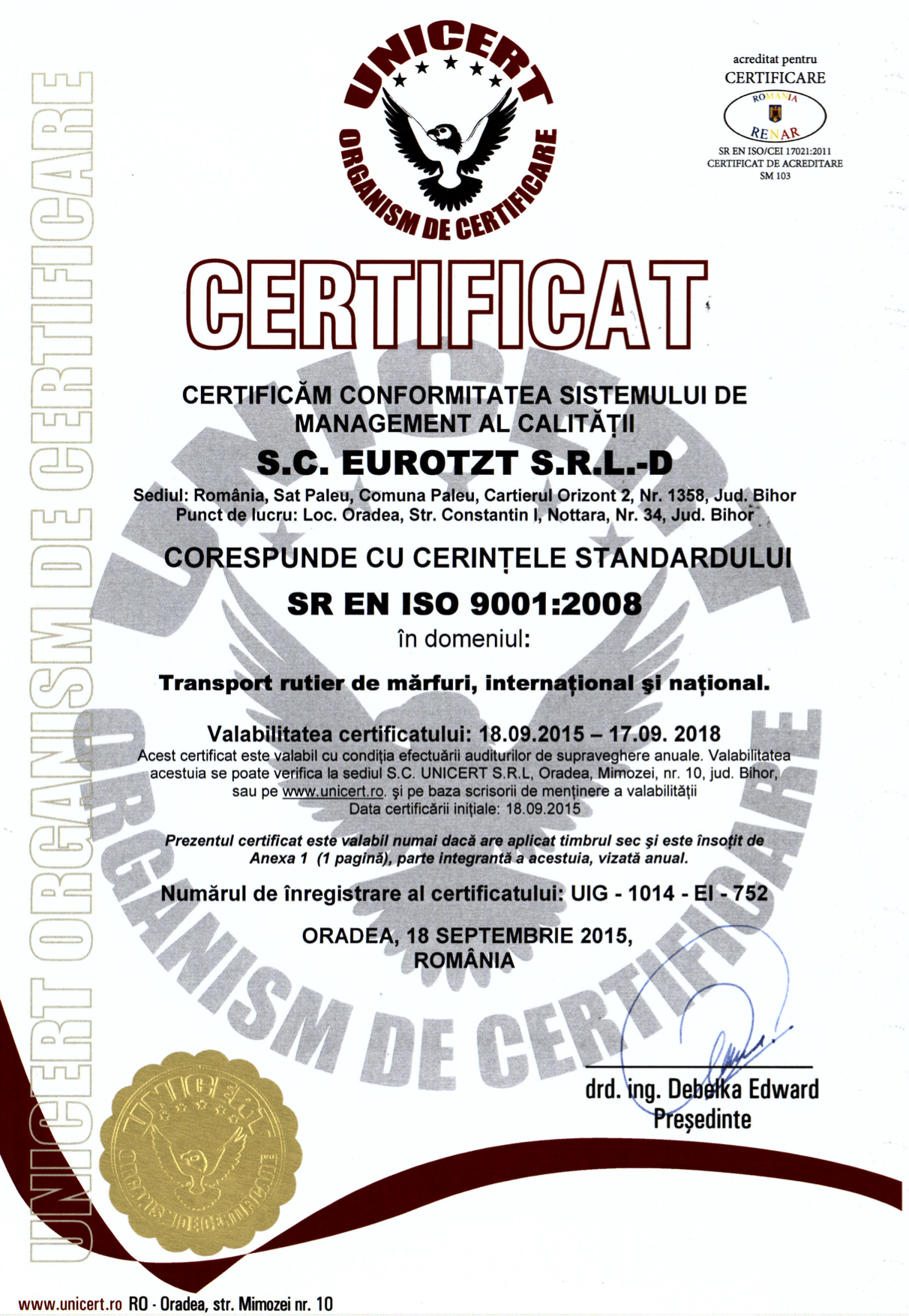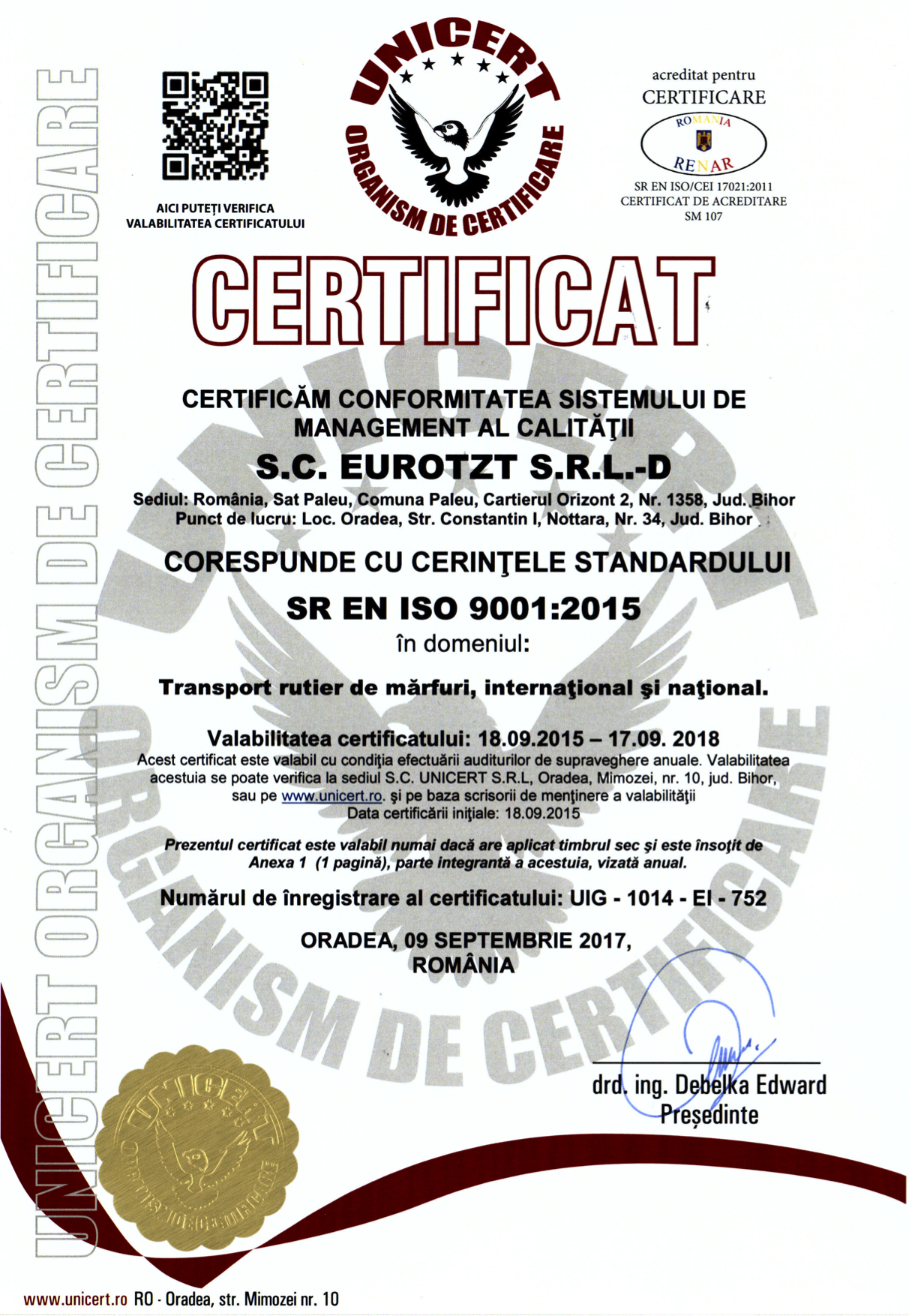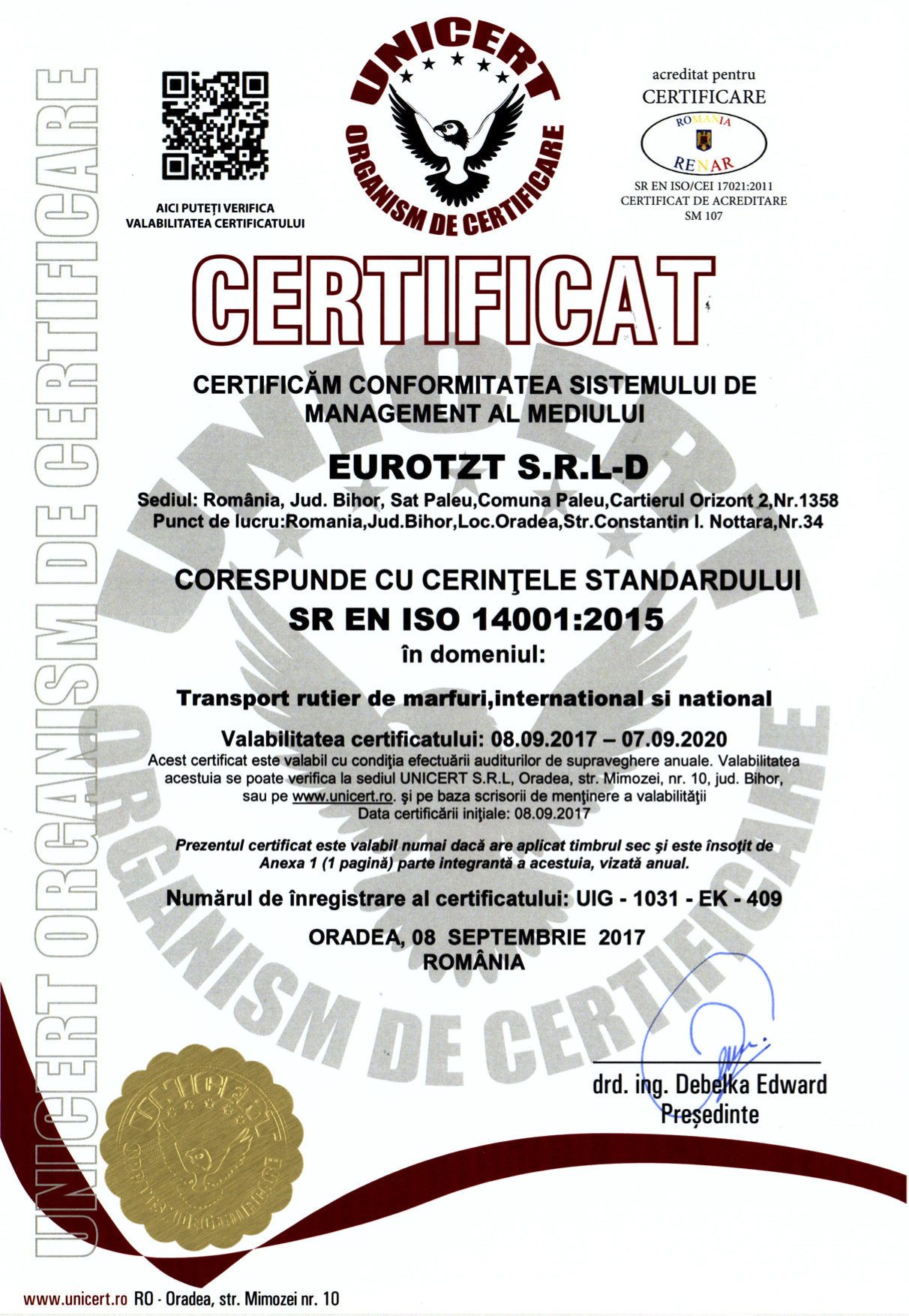 THE CARE FOR THE ENVIRONMENT 
Toya International Transport emphasizes the importance of protecting the environment by renewing the car park every time it is required. All the bought vehicles are new, having Euro 5 and Euro 6 engines, and are used only for a period of three years after the acquisition.
I.S.O 14001:2015 Certification – Environmental Management System, UIG-1031-EK-409 registration number
I.S.O 14001 requests the organization to declare what it does in order to control and to reduce the impact over the environment, to implement what it has stated in the environmental policy, to register everything and to learn from the experiences.
I.S.O 27001:2013 Certification – Information Security Management Systems – Requirements –UIG-1027-EK-136 registration number
Achieving the certification of the I.S.O 27001, the company demonstrates the fact that follows information security best practice and provides an independent verification of the fact that the information security is managed in line with the international best practice and business objectives.
The standard is based on the following principles that describe the information security: confidentiality, integrity and availability of information. It forces us to define very precisely, both the responsabilities and duties, and therefore strengthen our internal organization. Also, the certification gives a quality assurance of the fact that the sensitive information, such as: customer data, logins, network traffic, storage and backups, is managed in a secure manner. Reducing the risks to maximum, it guarantees that the management system is functional and accomplishes the operational demands of the company, the needs of the client and conforms with the current legislation.